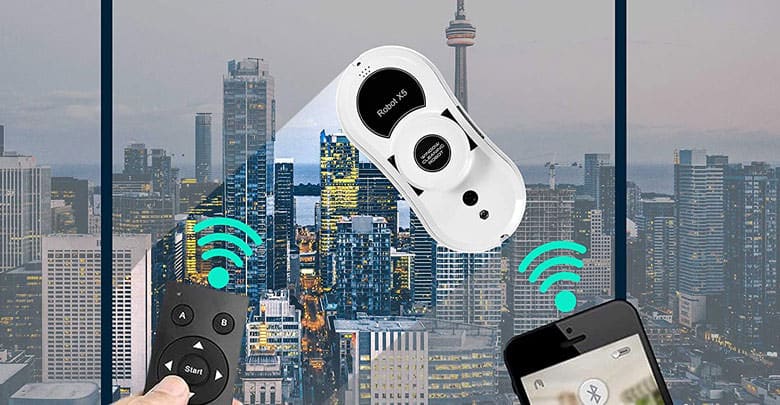 We have dedicated this guide to recommend the best window cleaner robot to buy based on functionality and price. These types of devices can literally walk on the glass emitting a jet of water and, at the same time, vacuuming it. A window cleaner robot is essential if you are a commercial operator and want to keep the windows of your shop clean, but as prices are gradually decreasing, you can use these devices at home.
Below you can see which ones are, in our opinion, the best to buy, after which we will briefly summarize the features and main differences that you will find in these devices. By doing this, if it were the first time you approach the purchase of a window cleaner robot, you will immediately understand which model is right for you.
How a window cleaner robot works
Until now, entrusted cleaning the windows to manual work or devices such as the Kobold and the like. For some years now, this process has been automated by window cleaner robots, capable of adhering to glass and windows and cleaning them thoroughly.
Cleaning usually occurs in three stages (sometimes even more): first of all, the robot will wash the entire glass surface with water and detergent. Then the robot will move on to the water collection phase through a suction and dirt removal system, using a spatula and a sponge surface. Finally, the window cleaner robot will complete the cleaning by completely drying the entire surface.
All this is done using sensors very similar to those installed on robot vacuum cleaners, which help the robot to perform intelligent paths to perform cleaning quickly and efficiently.
How to choose a window cleaner robot
Finally, here are the main features of a window cleaner robot that you must keep in mind before purchasing:
Size of the glass window: depending on the size of the surfaces you want to clean, you can choose a glass-cleaner robot of different sizes.
Type of power supply: window cleaner robots are commonly powered by a power cable of a few meters (to which you can obviously add an extension). But in case you can't have cables between your feet, you can opt for a wireless (wireless) window cleaner robot.
Noise and maintenance: commercial operators often want a low noise window cleaner robot, and for this reason, we advise you to look at the technical specifications and choose a robot with a noise level not exceeding 65/70dB. Maintenance is also important: choose a robot that includes washable cloths and automatisms that allow you not to pay attention constantly.
Sensors and smart features: some window cleaner robots offer advanced sensors to "juggle" cleaning glass surfaces, choosing a fast and efficient path. Some can also be controlled remotely via the smartphone or are equipped with a tank to automate the rinsing process.
The most purchased window cleaner robots
Before seeing the window cleaner robots, we have chosen for you, let's take a quick look at the ones most purchased by users on Amazon! Specifically, below you can see a list of the 10 devices currently best sold on Amazon; be careful though they are the best-sellers, which does not mean that they are the best to buy!
For each of them, some information is indicated, such as the price, the status (to understand if it is currently on offer), and the type of shipment. Devices marked with the "Prime" logo benefit from the Amazon Prime treatment, with which you can receive your package with free and fast shipping! Here's the list:
Product prices and availability are subject to change. Any price and availablility information displayed on Amazon at the time of purchase will apply to the purchase of any products.