Guide
TV Antenna: The Best to Buy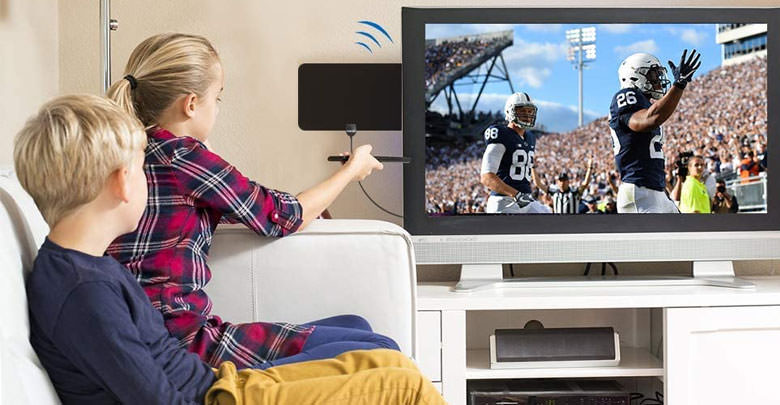 If you are looking for TV antennas, cables, or accessories to view your favorite programs, we invite you to carefully read our purchase guide, where you will find all the most interesting offers of the moment. In addition to selecting the best-selling products, we made a careful comparison to evaluate their pros and cons.
Buying Guide – How to Choose the Best TV Antenna?
To purchase a TV antenna suitable for your purposes, you must consider several factors. Above all, if you aim for low-cost products, do not expect miracles since the reception could only be limited to the main channels.
There are different types on the market, from a few tens of euros to several hundred, and they differ not only in performance but also in size and ease of installation.
If you live in an apartment in the city, but you have bad reception since buildings surround the condominium antennas, or you are on the lower floors, the solution may not be the simplest since the economic antennas to be installed in the house or perhaps on the balcony; they will have the same problem as the condominium ones, that is, they will not be able to grasp the signal correctly.
Must also say that the digital terrestrial signal, compared to the analog one, has higher power, allowing at least the reception of the main channels such as Rai and Mediaset, even in particularly unfavorable conditions.
What is a TV antenna?
The TV antenna is an essential tool for capturing the radio signal, whether digital or analog, broadcast by broadcasters. Usually, it is possible to find them on the roofs of buildings and condominiums. The higher they are installed, the better the reception since it will not have to cross walls or other obstacles to reducing signal intensity.
On the market, it is possible to find different types, indoor, outdoor, or even for means of transport, meeting the needs of all buyers.
Indoor or outdoor?
In principle, indoor antennas should only be used in appropriate conditions, i.e., without too many buildings around your home and with a repeater that is not more than 25 miles away.
Of course, these characteristics may vary according to the product chosen. To get the most out of the indoor antennas, installing them near a window or a wall that gives on the outside is generally necessary, making sure that it is not near walls made of reinforced concrete. Whose shielding could prevent the correct passage of the waves?
The outdoor antennas are slightly more efficient, but they also depend on the type of model. The low-cost ones have a low gain of less than 30 dB and will not guarantee a high-performance difference.
At the same time, professional products of a few hundred euros are certainly able to prove more efficient and capable of tuning many more channels. The recommended gain is at least 35 dB, the minimum value for receiving a satisfactory amount of channels.
Weathering
Choosing an outdoor antenna, you must evaluate the resistance to atmospheric agents such as sun, rain, hail, and any event that could damage the antenna. Our advice is to install the product in a sheltered but sufficiently open area not to compromise the signal.
You will thus minimize the risk of damage from particularly intense gusts of wind, for example, without having to give up a clean signal.
Antennas for campers and boats
For those who love to travel without giving up the entertainment that TV programs can offer from time to time, antennas are specially designed for means of transport such as campers and boats.
These products are slightly more expensive than the average, but a built-in order to resist the friction of the wind when moving and, at the same time, guarantee optimal reception.
Their installation is straightforward, and in some cases, they offer convenience not to be underestimated, such as the possibility of connecting with multiple televisions. For example, if you are traveling with your family, each member will watch their favorite show simultaneously.
How to Use a TV Antenna
To make the best use of a TV antenna, you must first understand if there are repeaters in your area within a radius of at least 60 km. If there were no signals, it could be inferior, and to be picked up, a very powerful TV antenna would be needed to be placed perhaps on the roof of your home without any interference due to walls, walls, or other buildings.
Those who live in remote areas cannot count on the help of inexpensive indoor TV antennas, comfortable for their low cost but very basic in terms of performance.
If you live in the city, the indoor or outdoor antenna could be a valid alternative as long as the repeater is in a satisfactory radius and you do not pretend to receive hundreds of channels. These products usually manage to guarantee the vision of the main channels such as Rai and Mediaset and some local networks.
How to mount the TV antenna
If you are wondering how to mount a TV antenna, the answer is not unique since there are numerous models and variants on sale on the market.
If you are talking about a classic TV antenna, the assembly should be left to the professionals of the sector as it requires very delicate steps such as fixing the antenna so that the wind does not cause it to move and connect additional devices such as the LTE / filter 4G and any power supplies and amplifiers for better signal reception.
If, on the other hand, we talk about indoor or outdoor antennas of small dimensions, do-it-yourself is allowed if not even encouraged. The latter has compact dimensions and does not require particular knowledge of antennas. You have to connect the antenna using a special cable to the TV and place it near a window or a wall overlooking the outside.
Given their low earnings, this is a fundamental step and should not be underestimated; the positioning will determine the quantity and quality of the channels you will receive.
Compared to the analog signal, the digital terrestrial that replaced it is certainly less influenced by slight atmospheric phenomena. However, if these exceed the minimum threshold, the transmitted information will be completely disturbed, making it impossible to view any channel.
So keep in mind that good positioning could prove to be the best way to receive all the main channels without any problem.
Amplifier and power supply
In some cases, especially for classic systems, it is important to understand how to connect the power supply for the TV antenna. This is because these devices give energy, not to the antenna but amplifier connected to it. To make this connection, it is necessary to have some manual skills and experience with electrical systems.
After identifying the amplifier installed on your antenna, you will have to use one of the divider cables to hook it to the power supply. Once the procedure is done, you have to connect the power supply to the electric current to automatically amplify the signal, distributing it equally on all the TV in the house.
#
Preview
Product
Rating
Price
1
TV Antenna for Smart TV - Amplified HDTV Indoor Digital Antenna with 350+ Mile Range Support for 4K...

4,067 Reviews

$34.99

BUY NOW! ON AMAZON
2
Gesobyte Amplified HD Digital TV Antenna Long 250 Miles Range - Support 4K 1080p Fire tv Stick and...

49,294 Reviews

$39.00

$29.90

BUY NOW! ON AMAZON
3
Chaowei Digital TV Antenna-DVB66 Portable Indoor Outdoor TV Antenna with Magnetic Base,16.5ft Long...

4,745 Reviews

$18.99

BUY NOW! ON AMAZON
4
TV Antenna for Smart TV - Amplified HDTV Digital Antenna Long 400+ Miles Range, Indoor/Outdoor Smart...

4,657 Reviews

$36.99

$33.99

BUY NOW! ON AMAZON
5
TV Antenna Indoor, Digital Amplified Indoor HDTV Antenna, 1080p VHF UHF Television Local Channels...

14,674 Reviews

$32.99

$23.99

BUY NOW! ON AMAZON
6
Digital HDTV Antenna - Includes Magnetic Base and Coaxial Cable - 50 Mile Range - Indoor or Outdoor

14,614 Reviews

$24.99

$18.99

BUY NOW! ON AMAZON
7
Digital HDTV Antenna Long Range 380 Miles Indoor Amplified Signal Booster Support 4K 1080P UHF VHF...

1,461 Reviews

$19.99

$16.99

BUY NOW! ON AMAZON
8
Antier Amplified Indoor Digital Tv Antenna – Powerful Best Amplifier Signal Booster up to 325+...

3,284 Reviews

$29.98

BUY NOW! ON AMAZON
9
GE Modern Loop Rabbit Ears Indoor TV Antenna, 15 inch Extendable Dipoles, 4K 1080P VHF UHF, Tabletop...

4,282 Reviews

$10.99

BUY NOW! ON AMAZON
10
TV Antenna for Smart TV - Amplified HDTV Indoor Digital Antenna Range 32FT Cable Support for 4K...

3,677 Reviews

$34.99

BUY NOW! ON AMAZON
Product prices and availability are subject to change. Any price and availablility information displayed on Amazon at the time of purchase will apply to the purchase of any products.