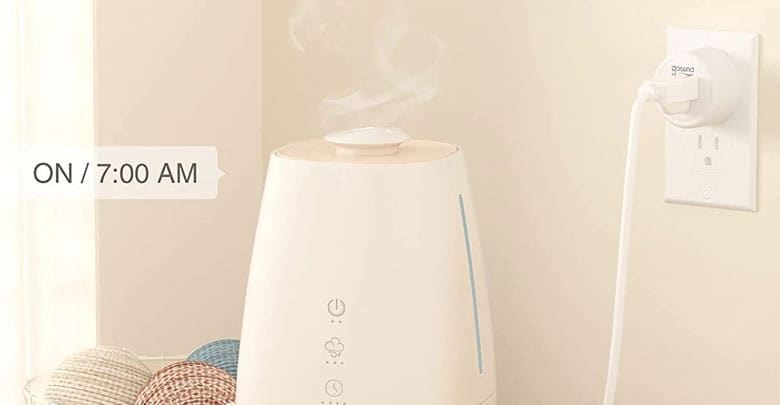 Many of you will surely have already heard the word Home automation: it refers to a particular concept: the smart home. But this does not purely mean " controlling a device via your smartphone " – on the contrary – these new technologies also help to improve consumption, pollute less and adapt the home to your habits! And having a smart home does not necessarily mean spending a lot on these accessories, and one of the first to start with is certainly the smart plugs.
Smart Plug is generally inexpensive and will allow you complete control – even and above all remotely – of any of your devices. As mentioned earlier, control refers to the simple management of a plug and adapt these devices to your daily habits and improve consumption. But let's see them a little more in detail:
Smart Plug: What are they?
A smart plug is a device slightly larger than a simple electrical socket: it does nothing but interpose itself between the wall socket and the plug coming from any device. Having said that, it is immediately clear that smart plugs acquire an almost infinite potential, and the only limit is the imagination!
In short, the smart plugs manage the power supply to the device with which they are connected and behave more or less like switches, allowing you to turn on/off that device without problems, quickly and from a simple app. For example, here is an image that can summarize the operation of a Smart Plug:
For example, the smart plug has been connected to a coffee machine, and with the application on the smartphone then, can manage it under certain aspects, such as programming it to switch on at a precise time in the morning and then wake up and find it ready to make us a nice coffee. But let's go into more detail and see what the main features of a Smart Plug are, and then see how to use them:
Main Functionalities
So far, we have remained vague by explaining in broad terms what a smart grip is. But now, let's go into even more detail and find out the main features of a Smart Plug and what you should expect to find on one of them. Then, following these observations, we will see how to make the most of smart plugs.
Type of socket: Smart Plugs are usually produced with the Schuko input (two poles), but it is not uncommon that you can also find the classic three-pole socket.
WiFi: it is no coincidence that they are called WiFi plugs! You can connect them to your home model (or WiFi router) through an application. This allows you to remotely control them, even when you are away from home.
Application: each Smart Plug must have an application (Android / iOS) that can be downloaded to your smartphone and control and manage everything, even when you are not at home.
Physical button: another common feature is that it also has a physical button to switch on/off the smart socket manually, without necessarily using the smartphone.
Programming: through the app, you can program the switching on/off of the socket on certain days, certain hours, or certain time slots, and this programming is not affected either by a fall in the WiFi connection or by a blackout.
Monitoring: some smart plugs also offer real-time monitoring of the electricity consumption related to the device/appliance connected to it. Often the energy savings you have obtained are also measured.
IFTTT support: with this application, it is even possible to give orders to a device such as a smart socket to perform certain operations following certain actions. For example, through the GPS, the application recognizes when you are at home, and you could command to turn off the smart socket when you leave the house (in short, without lifting a finger) and turn it back on when you return.
Smart Home Hub: via the WiFi connection, the smart plugs can be configured with Smart Homes such as Google Home, Amazon Echo (Alexa), Samsung SmartThing, and Apple's HomeKit. In this way, you can control and manage the smart plugs even with a simple voice command!
The Best-Selling Smart Plugs
Soon we will show you the smart plugs that we think are the best to buy. But first, here are the 10 best-selling Smart Plugs currently on Amazon Italy. But be careful! The fact that they are the best-sellers does not mean that they are the best to buy in terms of functionality, reliability, or value for money.
We are simply talking about the best WiFi plugs, according to Amazon users. Anyway, remember that you will buy most free and fast shipping with an Amazon Prime account. So here are the best-selling smart plugs:
These were the best-selling smart plugs, but please don't get confused with the Powerline plugs, which have a completely different purpose and cannot be used to control your home plugs. You will usually recognize Powerlines because they have Ethernet inputs. In any case, always read the description and feedback from buyers carefully.
---
Smart Plugs: How to use them
As mentioned, the potential of WiFi smart plugs is practically infinite because you can connect any electronic device to it – always considering the maximum power that the Smart Plug can handle – such as an electric oven or a refrigerator.
The best way to use them is to configure them with your home WiFi modem/router because, in this way, you can control everything remotely or take advantage of some of the beneficial features described above, such as the use of a voice assistant.
The remote control is a key topic because you can actually act on the energy saving of your devices, not only when you are not at home but also when you are present, and you know that you do not have to use some devices. So let's see some possible uses of smart sockets:
Lighting: first of all, with the smart electrical sockets, you will be allowed to manage (turn on / turn off / program) any lighting, be it a lamp, a chandelier, outdoor or Christmas lights, and so on.
Appliances: The management (switch on / off / program) of small and large appliances such as a coffee machine or a microwave oven and a refrigerator or a washing machine is even more useful.
Other devices: it could also be useful to turn on or off larger appliances such as water heaters, boilers, or stoves (electric or pellet), especially when you are not at home for a prolonged period.
Systems: by connecting a system to a Smart Plug such as an electrical system, a heating system, or an irrigation system, it will be extremely easier and more convenient to manage the switching on and off, but above all to program their switching on in certain time slots for – for example – wake up with the house already heated or go on vacation without worrying about watering the garden.
Anti-theft: When you are on vacation, you can program the switching on an intelligent electrical socket to illuminate the lights of certain rooms at specific times to simulate your presence and make sure that malicious people cannot understand that you are not there.
Product prices and availability are subject to change. Any price and availablility information displayed on Amazon at the time of purchase will apply to the purchase of any products.