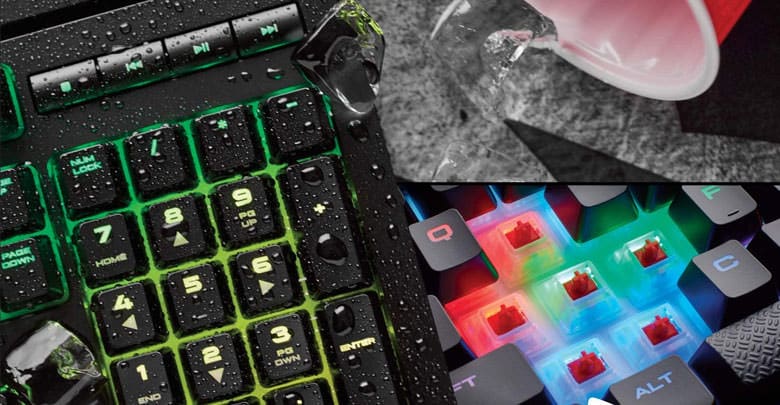 This constantly updated buying guide will help you choose the best mechanical gaming keyboard perfect for your needs. In addition, we will offer you the best models currently available on the market.
Furthermore, we will explain all the technical characteristics and aspects to consider when buying a peripheral type.
How to choose a mechanical gaming keyboard
Buying a mechanical gaming keyboard is becoming more and more frequent, not only for those who spend hours and hours in front of the most popular games of the moment but also among those who want a higher-end product with special features. There are so many combinations to suit your tastes, with colorful and captivating models that, in addition to catching the eye, offer above-average performance in any area.
Before showing you, which types of mechanical gaming keyboards we have selected for you, it is necessary to find out the characteristics that make these products unique. Unlike classic keyboards or ergonomic keyboards, they lend themselves to a totally different use.
If you are used to using the first keyboard, you find, perhaps bundled with the PC, you will hardly have had the pleasure of getting your hands on a premium model. However, the mechanical gaming keyboards offer superior precision and reliability, which you can find both in daily use and during the sessions of your favorite games.
The main difference lies in the key, called switch mechanism, which allows you to have an actuation pressure that is always constant and easily identifiable by touch not to make mistakes while typing. Now, these mechanisms are almost always quite expensive, and for this reason, we tell you right away that aiming for a cheap mechanical keyboard may not be a good idea.
In this case, it would be comparable to the most common membrane keyboards and would stand out on them only for the design and perhaps for the backlighting. Let's see what combinations we can find are.
Choosing the right switch for your use will greatly affect your feeling with the mechanical keyboard. Most of these are produced and marketed by Cherry Corporation, a leading company in the sector, and for this reason, they take their name.
Cherry MX Blue: they are usually the most responsive and performing switches among those in circulation, with a really typical sound feedback that makes them particularly appreciated by those who usually write to the PC. Not for this, they are disdained by gamers, a factor that makes them particularly versatile.
Cherry MX Brown: In this case, it is a type of switch that does not require a particular pressure and emits a characteristic sound even if more muffled than the previous model. They are perfect for fast typing but at the same time allow you to spell out individual touches, particularly well.
Cherry MX Black: they are the heaviest switches in the category and have a different operation than the others. In fact, the typical click only arrives at full pressure while the activation threshold is positioned first. For this reason, these switches are loved by those who often play the first-person shooter.
Cherry MX Red: they are the evolution of the previous model, lighter but with the same functioning. Even in this case, in fact, the sound feedback does not correspond to the maximum pressure. They are the favorites of those looking for a low-noise but high-performance gaming keyboard.
The best-selling mechanical gaming keyboards of the moment
Before continuing with our selection, we recommend that you look at the list of the 10 best-selling mechanical gaming keyboards of the moment on Amazon.
The list is kept constantly updated by the store itself. Furthermore, it is useful to keep an eye on the offers on mechanical gaming keyboards in this section.
---
Our selection
Below we offer you our selection of the best mechanical gaming keyboards currently available on the market. The products in the selection were chosen based on the characteristics previously analyzed. We want to constantly update our buying guides to provide you with products that are always available and valid.
Corsair K95 RGB Platinum
Is the previous model not for you? No fear! Corsair has the top of mechanical gaming keyboards in store for you with this really crazy model. Cared for down to the smallest detail, it offers generous dimensions, compensated by the extra functions included in the keyboard body.
There are dedicated multimedia controls, a volume wheel, and fully customizable RGB lighting. The palm rest, in this case, is removable, so you cannot use it if you are not comfortable with its presence. Excellent ergonomics and the size of the keys will hardly make you wrong while typing.
Corsair Strafe RGB
This is an excellent mechanical gaming keyboard made by Corsair. The Corsair Strafe RGB features the renowned Cherry MX switches in Brown, Red, or Silent versions. The switches guarantee maximum performance and durability. It offers 100% anti-ghosting, ensuring maximum accuracy even in the most intense gaming sessions.
Included in the package, the FPS and MOBA kits of textured and shaped keys are available, guaranteeing excellent grip and a pleasant feeling to the touch. In addition, the CUE software allows you to customize every key and manage the keyboard's RGB lighting.
The presence of a removable wrist rest is very welcome, which allows you not to tire your wrists during gaming or writing sessions.
Corsair K68 RGB
Here is a mechanical gaming keyboard that makes resistance its strong point. The body of this Corsair is resistant to dirt and liquids, and you will not have to worry at all if you usually eat in front of the PC at the most unlikely hours.
Equipped with Cherry MX Rossi switches, it also focuses on customization, thanks to RGB LED that allows you to change the backlight color with many different combinations. Do not underestimate the possibility of programming the keys using Corsair proprietary software.
Razer BlackWidow TE Chroma v2
This backlit mechanical gaming keyboard has a truly excellent build quality, typical of all products made by the company. This Razer BlackWidow TE Chroma v2 is made entirely of metal dedicated to all the most demanding gamers who want a compact mechanical gaming keyboard that offers maximum performance in all circumstances. In addition, it features Razer's proprietary mechanical switches, a great alternative to the well-known Cherry MX.
The anti-ghosting of this RGB gaming keyboard allows you to press up to 10 keys simultaneously. Of course, Razer's famous RGB Chroma 16.8 million color backlight is a must.
Logitech G613
Our guide was missing a Logitech wireless mechanical gaming keyboard, and we integrate it with this product made by the company, equipped with the aforementioned Romer-G switches. The connection is always stable, thanks to the proprietary LIGHTSPEED technology, which promises stability and efficiency.
The extra controls are numerous and make this keyboard slightly bulkier than the opponents. Unfortunately, the LED for the backlight is missing, a secondary factor if you are only interested in performance—excellent autonomy, especially compared to similar products from other manufacturers.
Logitech G413
This inexpensive mechanical gaming keyboard is the first we encounter today to use proprietary switches, called Romer-G. Developed in collaboration with a Japanese company, they manage to give truly incredible feedback.
In this case, it is an essential model, without too many frills, which does what it was designed for and does it damn well. The design is really minimal, with no extra keys and no backlight. If you are looking for a performing model at an affordable price and without additional functions, we recommend that you buy it on the fly. You can also buy it on eBay, MediaWorld, and BPM Power.
Drevo Tyrfing V2
Drevo's Tyrfing V2 is undoubtedly the best budget mechanical gaming keyboard available on the market. It can be considered the best buy of medium-low-end mechanical gaming keyboards, equipped with a truly excellent quality/price ratio.
It is characterized by 5 macro keys that can program your liking thanks to the specific dedicated software. The Drevo software also allows you to manage the RGB lighting of every single key of the keyboard. In addition, there is the possibility of blocking the Windows key so as not to press it incorrectly while using the keyboard in-game.
You can buy it in different variants, each of which differs for the type of switch. This model is equipped with the Switch Red Outemu, indicated above all for gaming but also writing. In addition, the keys of this Tyrfing V2 are equipped with anti-ghosting technology.
Product prices and availability are subject to change. Any price and availablility information displayed on Amazon at the time of purchase will apply to the purchase of any products.