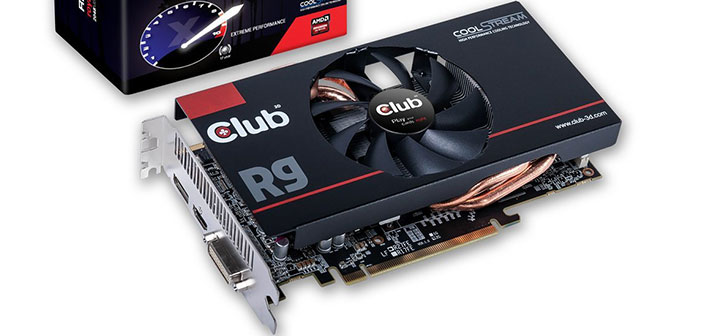 Club 3D is a Dutch manufacturer of graphics cards, power supplies and accessories for personal computers mainly related to the audio-video. Founded in 1997 under the name of Colour Power, the company became the Club 3D 2005. The company was immediately one of the pioneers in the marketing of graphics cards for S3 Graphics, 3dfx, ATI Technologies and Nvidia, as well as being the first private company in the world to market under the same brand graphics cards AMD and Nvidia.
The company has its headquarters in The Netherlands, with sales offices in Germany and North America. The mission of Club 3D is to provide the best solution for their market partners and customer's enthusiasts. Company policies that provide a friendly approach, flexible, focused, fast and fun helps build a lasting relationship and achieve maximum satisfaction to the customers.
In 2001, Club 3D becomes the first manufacturer AIB (Add-In-Board) for ATI / AMD, launching the first proposals during the Computex 2001 the same year the company opened its headquarters in Germany. In 2003, Club 3D began his collaboration with S3 and XGI Graphics Technologies, while the partnership with Nvidia comes during 2006 the same year the company launched its new range of sound cards Theatron, while 2007 sees the start of the marketing handbag's accessory VAX Barcelona.
In 2010, the company officially launches its line of accessories for PC, while in 2011 the Club 3D begins commercialization of power supplies and high-end graphics, cards powered via USB ports called SenseVision. 2013 finally sees the sale of relations with Nvidia, which will still be marketed earlier generations, while still continuing the partnership with AMD.
Club 3D Radeon R9 270 royalQueen: Specification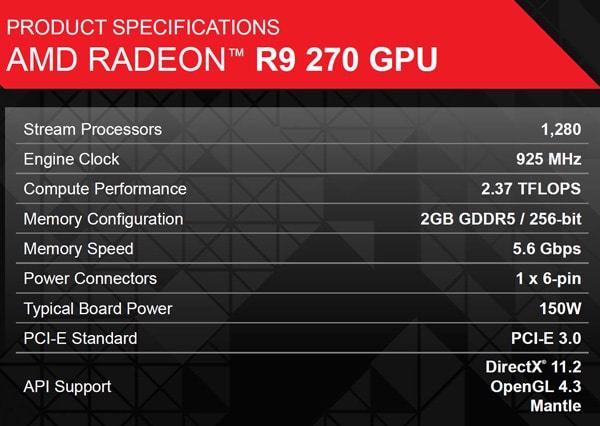 Today, we will analyze for you the Club 3D Radeon R9 270 royalQueen equipped with 2 GB of GDDR5 memory, GPU has a slight factory overclock, but thanks to an efficient cooling system of the latest generation owner should offer excellent overclocking potential in maintaining acoustic comfort of the highest level.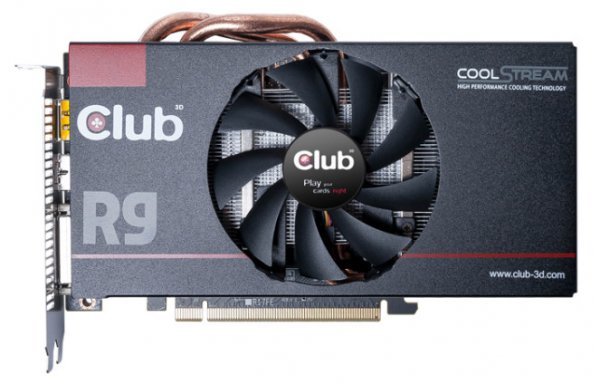 The board reviewed in today, equips the GPU Curacao, renaming the Pitcairn GPU equipped onboard Radeon HD 7870 and HD 7850 video card. Many of you reading these first few lines will remain disappointed in being in front of another rebranding, but we want to invite to continue reading, placing your attention to some aspects of this " refresh " that make the product in our view very interesting. In addition to 'architecture, it is necessary to consider several aspects are often overlooked, such as the frequency, the power consumption and price at which the new product is marketed.
| | Radeon HD 7850 | Radeon HD 7870 | Radeon R9 270 | Club 3D Radeon R9 270 royalQueen | Radeon R9 270X |
| --- | --- | --- | --- | --- | --- |
| Shader | 1024 | 1280 | 1280 | 1280 | 1280 |
| Texture Units | 64 | 80 | 80 | 80 | 80 |
| Color ROPs | 32 | 32 | 32 | 32 | 32 |
| Processor | 28 nm | 28 nm | 28 nm | 28 nm | 28 nm |
| Freq. Core (Shader) | 860 MHz | 1000 MHz | 925 MHz | 955 MHz | 1050 MHz |
| Freq. Memory | 1200 MHz GDDR5 | 1200 MHz GDDR5 | 1400 MHz GDDR5 | 1400 MHz | 1400 MHz GDDR5 |
| Bust | 256-bit | 256-bit | 256-bit | 256 Bit | 256-bit |
| Bandwidth | 153.6 GB/s | 153.6 GB/s | 179.2 GB/s | 179.2 GB/s  | 179.2 GB/s |
| TDP | 130 W | 175 W | 150 W | 146W | 180 W |
| Auxiliary Connectors | 1 x 6-pin | 2 x 6-pin | 1 x 6-pin | 1×6 Pin  | 2 x 6-pin |
The Club 3D Radeon R9 270 royalQueen presents a captivating CoolStream cooling system which, thanks to an elegant cover in anodized aluminum black color helps to enhance the aesthetic qualities of the graphics card, to make it more " important " and the exclusive 'entire line of the platform.
The solution adopted is not really a novelty in what is already in the previous Club3D Radeon 7800 renewed the cooling system with this interesting technological and stylistic evolution which we believe gives considerable importance to the product, allowing you to satisfy even the appearance that is becoming a factor of considerable importance, especially for fans and gamers who want to proudly display your platform.
Club 3D Radeon R9 270 royalQueen: Conclusions
The Club 3D Radeon R9 270 royalQueen shows that the Dutch company can take full advantage of the characteristics of each GPU maximizing performance while ensuring maximum reliability and quiet operation.
The R9 270 RoyalQueen we reviewed in today boasts the use of the most-recent owner Club3D CoolStream cooling system, which in addition to a captivating aesthetic presence, can provide ample room for improvement for those who want to overclock further operating frequencies of the GPU. The heat dissipation system, made with a cover made entirely of metal unlike many competing solutions, allows optimum quiet operation, keeping to the " cool " graphics processor also used more intense.
In terms of performance we were blown away by the excellent margin performance achievable by raising the frequencies of the card that has been able to rival and surpass even the most recent and expensive Nvidia GTX 760 at all resolutions, thus ensuring a level of performance adequate to support even gaming on multiple monitors.
The performance obtained with frequencies " reference " (forced from us by a small underclock) amounted on average equal to those expressed by the GTX 580, which expresses of counterpart consumption now really scary by today's standards.
PROS : System Dissipation CoolStream efficient and captivating design, Excellent ability to over clock, Good value-consumption performance, Faster than GTX760, Ability multi monitor high.
CONS :
N/A