Accessories
Bose Soundlink Colour: Review Bluetooth Speaker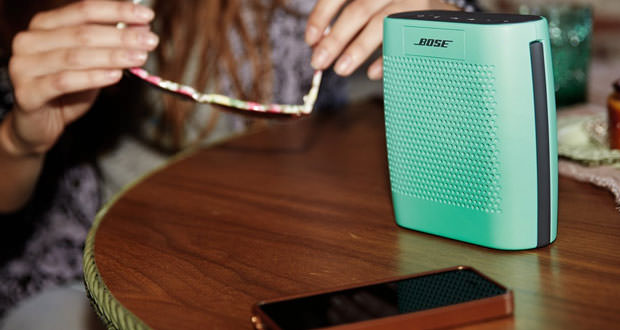 As with other Bose speakers series Soundlink, sources can be connected via Bluetooth or via mini-jack, as in the image to the side. With bluetooth scope of well over 5 meters away and you can connect to 2 devices at the same time to make a switch quickly between the two sources. From then emphasize the possibility for Bose Soundlink Colour store pairing with the last 8 devices: a comfort no small feat!
All the features of this case are manageable via the MCP which is located in the high part. Thanks to the rubber " rough " good ergonomics is ensured. With the keyboard so we can:
Turn on and off the Bose Soundlink Colour.
Switch between the two sources bluetooth manageable simultaneously.
Choose between the source and the Bluetooth AUX.
Start or stop playback.
Adjust the playback volume.
On bluetooth Bose Soundlink Colour buttons are not present for the management of handsfree calls simply because they are not provided! Well yes. This is the price that must be paid to the small size of this small object, so much so that it was not included even a microphone. The internal battery allows an usage continued for about 6-8 hours in the book " Fall of the ears " so you can really listen to music for a long time without having to worry about stopping to recharge: listening to your Spotify playlists are safe!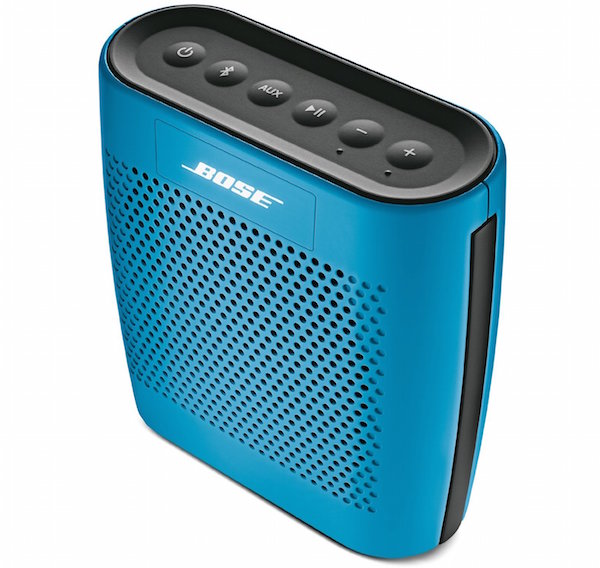 The performance of Bose Soundlink Colour.
What about the performance of that fund bluetooth? I would say not much, as the Bose brand speaks for itself: even if the dimensions are tight, the volume is always there. You can ask what they want and there will Soundlink Colour. At maximum volume, if you find yourself in a room even medium-large, you'll probably have to speak very loudly to make you feel: try it! If we talk about the audio tracks of good quality, probably up to 80% / 90% of the volume you will not hear any distortion. There is none for the other competitors: in this price range and size Bose is the host. On other systems, you will have a sound much more dirty, noisy or muffled; with Bose Soundlink Colour this does not happen.
Datasheet Bose Soundlink Colour.
| | |
| --- | --- |
| Type | Cash Wireless Ultra-compact |
| Compatible Air Play | No |
| Bluetooth | Si – 3.0 + A2DP; AVRCP |
| Network connection | No |
| NFC Ready | No |
| Internet Radio | No |
| Satellite Radio | No |
| DLNA | No |
| 3.5mm Aux | 1 |
| USB | 1 |
| Jack-in Headphones | No |
| Apple connector | Nobody |
| Speaker Configuration | 2 x 40mm Full range |
| Total power (peak) | 55 Watt |
| Total power (RMS) | 4.5 Watt |
| Shielded speakers | No |
| Speakerphone | No |
| Battery | internal lithium-ion battery |
| Approximate duration charge | 8 hours |
| Indications Charging | No |
| Width | 12.8 cm |
| Height | 13.5 cm |
| Depth | 5,3 cm |
| Weight | 0.57 Kg |
| Remote control | No |

Conclusions.
The Bose Soundlink Colour is the best wireless speaker on the market? Obviously, we are not talking about the performance of a sound system of high fidelity, but a speaker lower than a Bic pen (sometimes the sound will seem to come from a box, because that's what we speak in the end …). For this reason the results, in terms of fidelity of reproduction of low frequencies, are in my opinion really worth mentioning. Almost surprising.
This Bluetooth can also be used outdoors with very good results. With less than 5 watts RMS (continuous power)? Well yes. What has surprised me too much, but this is so. Of course, to a range of acceptable listening, you will not have to go far to enjoy all the sound quality and volume offered.
Where to Buy Bose Soundlink Colour
---
---
---
Bose SoundLink Color II: Portable Bluetooth, Wireless Speaker with Microphone- Soft Black
Innovative Bose technology packs bold sound into a small, water resistant...
Built-in mic for speakerphone to take clear conference or personal calls out...
Rugged, with a soft touch silicone exterior that makes it easy to pick up and go
Voice prompts talk you through the Bluetooth pairing so it's easier than ever...
The lithium-ion battery lets you enjoy up to 8 hours of play time, rechargeable...
In short: if you want a box easy to use, small, powerful, excellent quality you have to buy this Bose Soundlink Colour Bluetooth. Really smart spending. To recap: the Soundlink Colour is the best ultra-compact wireless market? Yes.
Product prices and availability are subject to change. Any price and availablility information displayed on Amazon at the time of purchase will apply to the purchase of any products.