Storages
QNAP TS-251: Review of this NAS media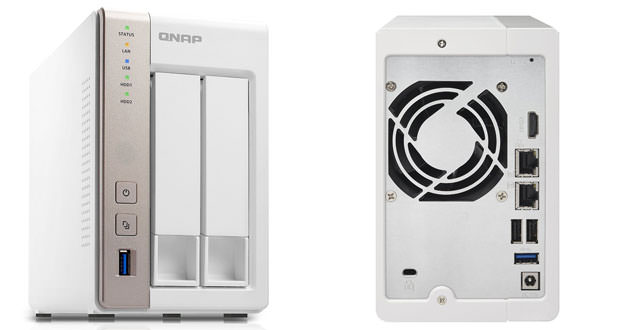 Review of QNAP TS-251: a NAS really simple and powerful! Moreover, thanks to the dual celeron, this NAS is also a great media player.
The claim of the QNAP reads " high-performance NAS with realtime video transcoding and offline for small businesses and home environments. " Precisely for this reason I headed this device a bit more " expensive " than others. Other NAS 2 slots would go very well for my needs restricted, if not for the fact that I wanted something that would work well as media player and media server. Investigating here and there, I found out that this device, and also the Synology DiskStation DS214play, would do just for me.
I must say that I was a little before purchase scared at the thought of having to insert disks in drawers, configure RAID1, go to the operating system, to understand the operation of the device even from the side of multimedia. Instead, once you open the box and read the first few simple guidelines, I did everything in no time: the QNAP TS-251 is really easy to set up and use! For those who normally uses a computer is really a breeze getting comfortable with this NAS and use it for the most diverse tasks: Backup, Synchronization, time-machine, media transcoding, streaming DLNA, FTP, web server, CMS server, Cloud, virtualization etc.
Besides this little " shack " it consumes very little and makes very little noise (just feel the disk head and only closely). I have basically reduced the use of my PC and 90% have switched to do almost anything with the NAS and the TV in my dining room, sprawled comfortably on my couch: priceless!
The use of the QNAP TS-251.
The operating system QNAP QTS 4.1.2, a revised linux, it really is very much used and very easy to set up and customize. Basically, calling the machine's IP assigned by the router or by typing the URL in the browser of the cloud service (myqnapcloud.com), you can access a desktop with all icons in plain view (multi-system-style Android).
Of course, you can open N windows simultaneously: the system is not affected in the least because the QNAP TS-251 has a hardware equipment really respectable. The entire system is then managed from the mobile and tablet, thanks to the app developed by QNAP to iOS and Android.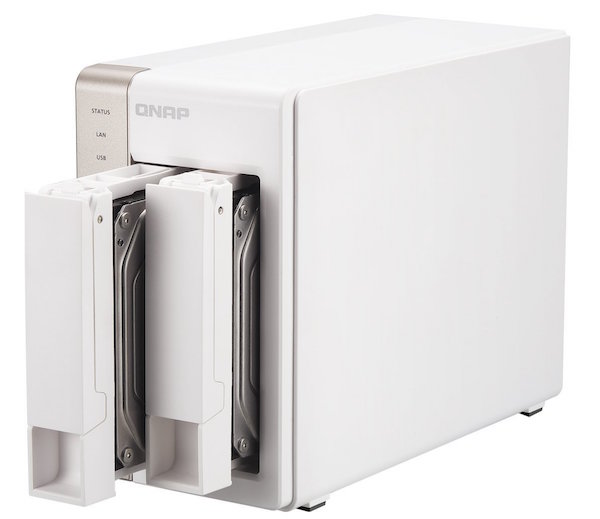 Another plus no small shall be represented by Virtualization Station: in a nutshell, you can run virtual machines on N NAS (Windows, Linux, Unix) using instances to install and test all apps that you could instead use the OS QTS. Caution: To use the application you must have installed at least 4 GB of RAM. Among the various software installed are of course also FTP client, Torrent, eMule, PhotoStation, etc.
The multimedia section of the QNAP TS-251.
QNAP TS-251 enables its realtime video transcoding in Full HD to convert videos in formats that PCs, mobile devices and Smart TV can play comfortably and at the same time. It allows up to 5 devices can simultaneously display different video stored on the HDD with realtime transcoding hardware accelerated. Then allows instant viewing of video on multiple devices without the need to convert files (already does him in the background).
With the advantage of transcoding offline, even if you have an Internet connection with bandwidth limited or restricted, you can watch smooth video by selecting a lower resolution pre-rendered for playback via the app File Station, Video Station, or qfile for iOS and Android without reducing the performance of the NAS while running other applications.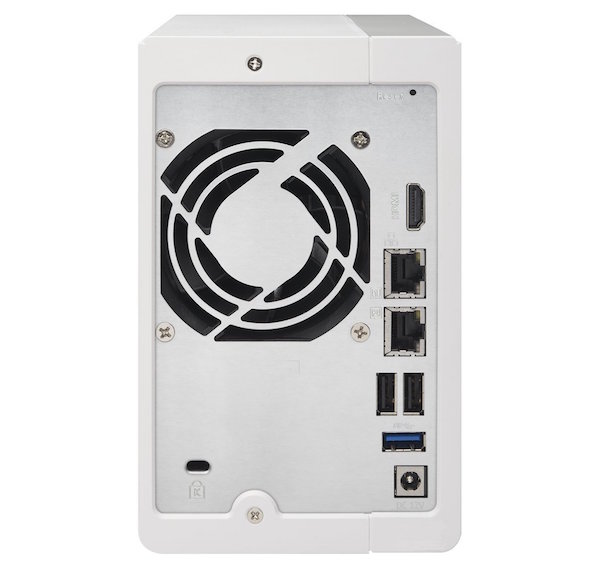 You obviously can use DLNA compatible devices, such as HDTV, Smart TV, Sony® PS3, Microsoft Xbox 360, and Hi-Fi, watch videos encoded. Moreover, with QAirplay available on QTS App Center, you can stream media content directly on your TV via Apple TV. Support of TS-251 for the Plex Media Server organizes all of your media with any information and converts TS-251 in a streaming device powerful and easy to use with support for DLNA, Roku, Amazon Fire TV, eGoogle TV. The device can also use the app and TVMOBiLi Twonky Media Streamer.
QNAP TS-251 with HD Station KODI integrates the media player, the media server PLEX (which also allows playback of MVK encoded in H265), Spotify, Firefox, Chrome, YouTube and other multimedia app. Thanks to the HDMI 1.4a port, you can connect the TS-251 to an HDTV to watch movies or listen to music. It supports the 7.1-channel surround. You can directly use your smartphone or tablet as a remote control as a keyboard with the app QREMOTE, or use the remote QNAP RM-IR002 or any MCE-compatible remote control through integrated IR receiver in the TS-251.
CPU
Intel Celeron 2.41GHz dual-core processor (up to 2.58GHz burst)
DRAM

TS-251: 1GB DDR3L RAM
Slots available: 2 (expandable up to 8GB)

Flash Memory
512MB DOM
Hard Disk Drive
2 x 3.5 "or 2.5" SATA 6Gb / s, SATA 3Gb / s hard drive or SSD compatibility list:www.qnap.com/compatibility
Drawers Hard Disk

2 x Hot-swappable
LAN

2 x Gigabit RJ-45 Ethernet
LED

Status, LAN, USB, HDD 1, HDD 2
USB
2 x USB 3.0 (Front: 1, Rear: 1)
2 x USB 2.0 (Rear: 2)
Support USB printer, pen drive, USB UPS etc.
HDMI
1
Buttons
Power / Status, USB One-Touch-Backup, Reset
Audible alarm

Alarm System
R Receiver
MCE-compatible
Shape:
Tower
Dimensions
168.5 (H) x 102 (L) x 225 (D) mm
Weight
Net: 28.1 kg / Gross: 2:32 kg
Power Consumption (W)
HDD standby: 10.28W
S3 Sleep: 0.47W
Operating 19.22W
(with 2 x 1TB HDD installed)
Temperature
0-40C
Humidity
5 ~ 95% RH non-condensing, wet bulb: 27C
Energy source
External adapter, 60W, 100-240V
Security
Slot for Kensington Cable
Fan
1 x quiet cooling fan (7 cm, 12V DC)
File system

Internal HDD: EXT4
External HDD: EXT4, EXT3, NTFS, FAT32, HFS +
Operating system
QTS 4.1 (embedded Linux)
Conclusions
In summary, the QNAP TS-251 is really a Ferrari NAS for home use and for small offices. Obviously, you can find much less at home and QNAP home Sinology. It could, for example, use a solution always 2 disk processors with less performing: there would not. However, all the multimedia functions guaranteed by the TS-251. In the latter case, you should take into account the purchase of a media player such as, for example, the Western Digital Media Player (and then change it, tomorrow, with the advent of H265 encoding for 4K UHD). Maybe you should spend even something less.
Where to Buy QNAP TS-251
---
---
---
If you want the best hardware, and the ease of use combined with the power and multimedia push But you cannot miss this NAS or the x51 series in general.
Product prices and availability are subject to change. Any price and availablility information displayed on Amazon at the time of purchase will apply to the purchase of any products.