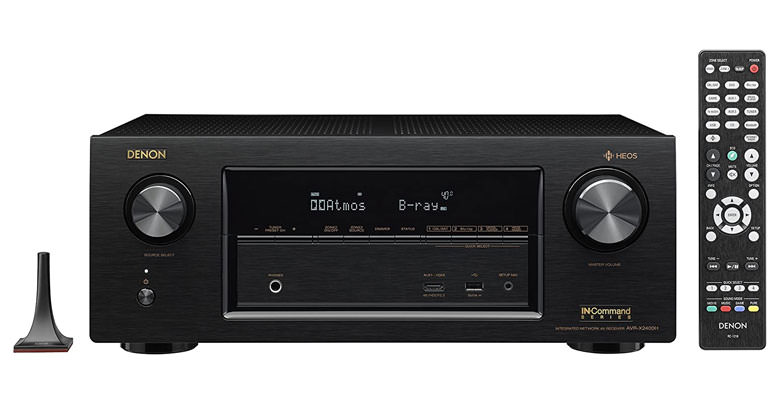 Denon is one of those manufacturers that has seriously committed itself to supply customers with entry-level AV receivers but of higher quality than the average, rich in functions and well built structurally. In addition, this 7.2 channel model does not miss the latest audio technologies.
It is equipped with HEOS technology, a wireless multiroom system that allows you to listen to music in all corners of the house, have, for example, compatible speakers, and can manage the app with a smartphone.
If you want, you can play different music in each room from different sources. Excellent power with its 150 W per channel. In this regard, it is worth mentioning the Auto Eco mode, which acts in such a way as to adjust the output from the power amplifier based on the volume level to reduce energy consumption. Consumption can be monitored in real-time—great compatibility with speakers, even at 4 ohms.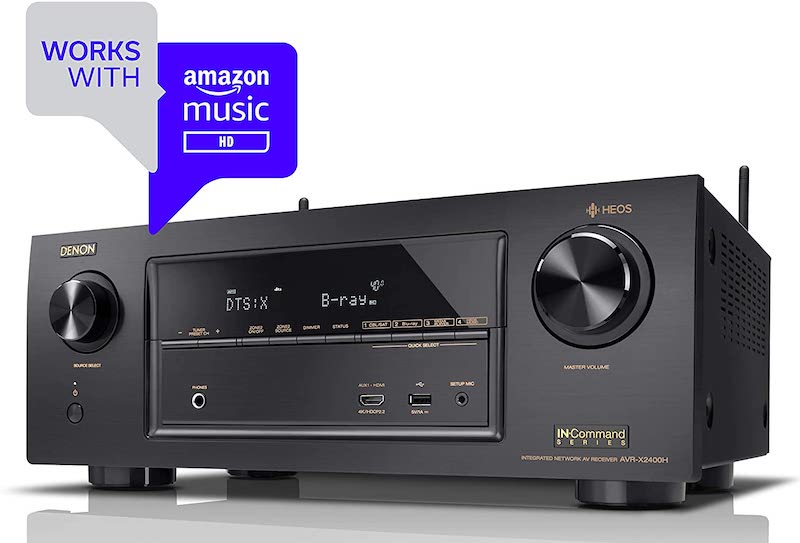 But on balance, what is the sound quality? You remember, in the beginning, we talked about entry-level. Still, we also told you that the quality is of a completely different level than other low-end devices, and you will also notice it by connecting it to the TV to watch your favorite DVD and Blu-ray; not a single audio detail is lost; the sound is defined but also powerful, deep, bright and impactful. After all, here we find Dolby Atoms, which gives you incredible audio realism.
Perfect streaming and excellent video section
The Denon AVR-X2400H will make those who use streaming music happy. It is perfect if paired with AirPlay 2 speakers and enjoying music services such as Spotify and Apple Music. If you watch music videos from YouTube or a nice series from Netflix using your iPad, Apple TV, etc., you will notice perfect synchronization with the speakers. Compatibility is maximum with all streaming platforms, and with the HEOS app, all music is at your fingertips.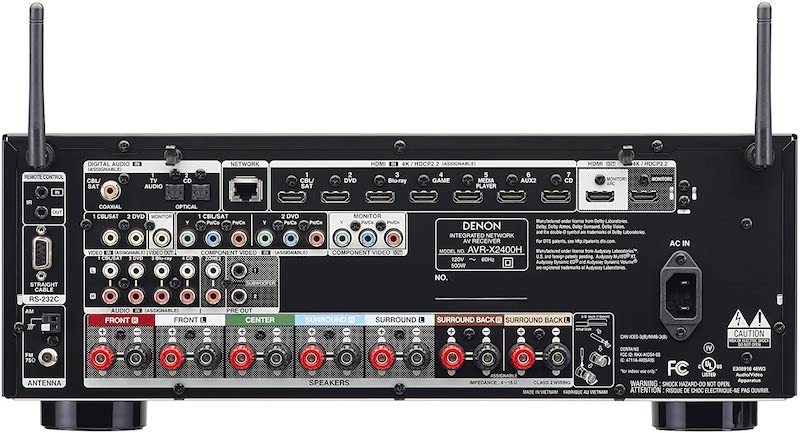 What about the video section? Certainly nothing bad, we can only talk about it well. There are eight HDMI inputs, and there is everything you need for a great home cinema experience. It goes from Full 4K UHD to the latest standards, such as the wide color gamut. Excellent video processor that gives a great upscaling of video content, even if of less definition, comes very close to 4K if not even at par.
Poor and unclear instructions
Let's start from one point: the configuration is not difficult. There is also a guided installation system, and the terminals are arranged in a horizontal row and color-coded. This is not where the problem lies, at least for those with minimum confidence in these things.
The problem is the abundance of functions that make the neophyte lose and confuse, which is why at Denon, they should understand that to enjoy this device to the fullest, it is not possible to trim poor and unclear instructions. Too many things are taken for granted and dealt with briefly.
This, in our opinion, is a lack of attention towards the customer and not by chance. When reading the reviews published on the net by consumers, a certain unease emerges, frustration due to the reading of incomprehensible terms. Being an entry-level for many, it is the first experience in terms of AV receivers.
Here, we would like Denon (but it is a feature that could move in general) to pay more attention to these details that can only seem marginal at a superficial glance. We understand that attaching more detailed instructions involves manuals with multiple pages that occupy more volume without counting the other efforts that derive from it, but this is what the customer wants. A product is complete even if accompanied by the necessary user information.
Good materials
We would have been surprised otherwise: the quality of the materials is excellent. In this sense, Denon has made the necessary efforts to deliver to customers a very robust device that immediately transmits a feeling of solidity.
The display is beautifully large. Its reading is comfortable but does not expect anything colorful because Denon has focused on sobriety, a speech that can, indeed, be extended to design: simple, linear, but classy as Denon has always been accustomed to a loyal clientele.
The control panel is clean despite being full of controls but discreetly camouflaged. Even the two knobs, one for selecting the source and the others for the volume, are not evident. Let's talk for a moment about the remote control: it is ergonomic, light, and comfortable to hold in hand despite its generous size.
Excellent distribution of the buttons, well highlighted and spaced to make use comfortable even for those with hands and huge fingers. The answer is practically immediate to the touch.
PROS: Despite being an entry-level receiver, the Denon AVR-X2400H amazes for the quantity and quality of advanced functions, among the most recent. All this translates into a more than satisfying audio experience.
CONS:
Many functions, some little known, deserve a more substantial and above all written booklet with greater clarity, instead it is not so, and many users have complained about it.
Product prices and availability are subject to change. Any price and availablility information displayed on Amazon at the time of purchase will apply to the purchase of any products.