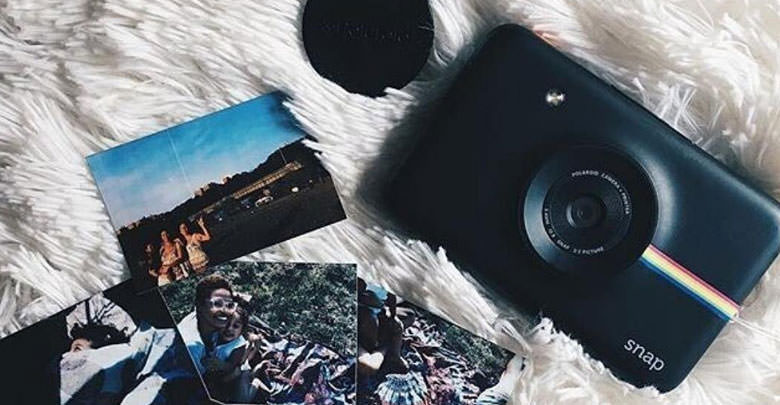 In this article, we will guide you to buying the best Polaroid Camera in production and buying the right films for each room, all at the best price. One of the features that made Polaroid famous is precisely the format of the printed snapshots that, despite the digital, always have their charm.
Best-selling Polaroid Cameras of the moment
Before leaving to our selection, we have made a top 10 ranking of the best-selling Polaroid cameras currently on Amazon. The ranking is updated every day, constantly, automatically and can be found below.
---
The Best Polaroid Cameras to buy
Below, in order of price, are reported the best instant cameras that the brand has currently in production (as from the official site). Finally remember that these Polaroids enjoy the Amazon Prime treatment in order to receive your orders quickly and with free shipping!
Polaroid PIC – 300
The Polaroid PIC – 300 is one of the cheaper Polaroids. This is an instantaneous analog camera, in which the shot is directly impressed on 2.1″ x 3.4″ film. It is powered by batteries and thanks to a selector you can set it to be best according to the scenario. The shutter can be closed up to 1/60 second, but the exposure can be changed manually. It is also equipped with flash and available in 4 colors.
Polaroid Originals 9003 OneStep 2 Instant Film Camera
The Polaroid Originals 9003 OneStep 2 Instant is one of the latest Polaroids on the market and is a beautiful tribute to the snapshot of 1977. At a low price, the OneStep 2 is a camera strictly analogical and simple to use, but also very modern. The built-in 1,100 mAh rechargeable battery lasts approximately 60 days in which you can take pictures in the 4.2″ x 3.5″ format. And you the favorite white or graphite gray?
Polaroid Snap
Among the most sold and appreciated, there is certainly the Snap, instant digital camera (with 10MP sensor) that represents a clear step forward to the others! 4 shooting modes (normal, B&N, vintage, self-timer) in 2″ x 3″ format, the possibility to save shots on MicroSD and print in less than 1 minute with Zero Ink technology. The Snap can also shoot, print and share shots without the need for a PC: in short, you just have to choose the color!
Polaroid Snap Touch
Zink Polaroid Snap Touch Portable Instant Print Digital Camera with LCD Touchscreen Display (White)
Point, Shoot, Print Taking picture Perfect Snapshots is quick and fun; Just...
All in One Camera & Printer : From portraits to selfies, this Powerful 13MP...
Stunningly Vibrant Prints: Zink Zero INK Printing technology eliminates the need...
Free Polaroid Mobile APP: Take Your photography to the next level by downloading...
Travel Ready Design: The mini, Colorful, and pocket sized Design is Compact,...
The evolution of Snap is called Snap Touch precisely because it has been adopted a 3.5″ LCD display on the back! But the news does not stop here: the Snap Touch mounts a 13MP sensor and the ability to record video in FullHD 1080p to save on MicroSD expandable up to 128GB, all managed via app via Bluetooth! And that's not all, take a look at it.
Polaroid POP
Finally, for the most modern, POP is a compact digital instant camera with many functions, all of which can be managed by the large 4″ LCD display. The large 20MP sensor allows you to capture more detailed shots, which can be edited before printing! Do not miss the ability to record movies up to 1080p or create nice GIF. But it does not end here, here are other details.
---
Polaroid films and photographic paper
If you have chosen one of the instant cameras here above, then you will necessarily have to buy some films to print your photos! In fact, every instant camera supports certain photographic films, so you have to choose the right ones.
Polaroid PIF-300
If you have purchased a PIC – 300, then you need the PIF 300, or special instant films with glossy coating to ISO 800 of the size of 2.1 " x 3.4 " and specially adapted to the PIC-300.
Polaroid OneStep 2 i-Type
Have you opted for an i-Type? Then in this case you can buy any film of the i-Type series and 600 series like the ones we have selected in the link below. You can also choose black-and-white films or colored borders.
Polaroid Snap/Snap Tuch
If your choice has fallen on a snapshot of the Snap family, then the choice must fall on ZINK (Zero Ink) films in the format 2″ x 3″ that are also compatible with other cameras of the brand, and available in different quantities.
Polaroid POP
While adopting ZeroInk technology, POP requires specific 3″ x 3″ format films specifically created for the POP series, water resistant and with adhesive backing to be glued in a binder. Here are the various formats available.
Product prices and availability are subject to change. Any price and availablility information displayed on Amazon at the time of purchase will apply to the purchase of any products.