Guide
Motherboard: What is it and which one to buy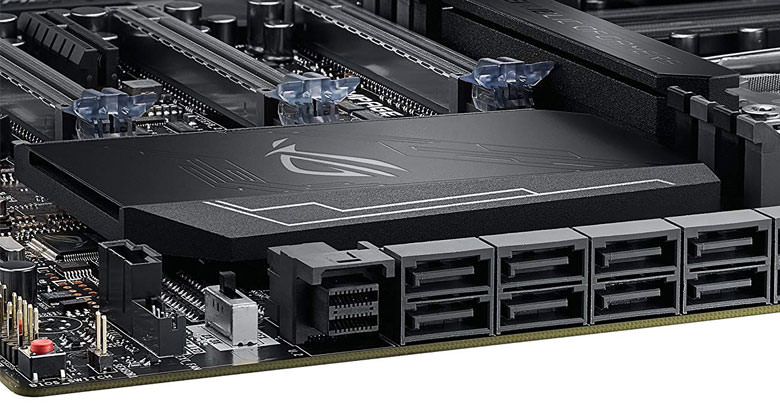 The motherboard is perhaps the component that is most underestimated in the choice of the new PC, especially by users who are not particularly familiar with this world. After having explained to you which processor to buy and which RAM memory to buy, it's also time to go on to explain you how to choose the motherboard.
This component will be one of those that most of all will decide the fate of your PC. In other words, if you plan to upgrade the desktop computer in the future, it will be the choice of the motherboard that will allow you to install the latest products or not.
What is a motherboard?
If you open the case of a fixed PC, you will immediately notice a different card from the others on which all the components inside it are cases. The motherboard acts as a link and not only for all those hardware parts used in a modern computer.
On its surface, there are slots for processor, RAM memory, video card and many more. All the microcircuits that you see in evidence, are a bit like the nervous system, as a transport channel for the electrical impulses that allow the various parts present to exchange information.
On the motherboard, even the most economical, are always present:
A socket, which allows you to host the processor and is different depending on the CPU family.
Slot for external cards, such as video, audio or RAM. These are also of different types and shapes depending on the intended use.
The capacitors, transistors and printed circuits, which constitute the communication routes, intersections and traffic lights of a hypothetical urban traffic.
The chipsets and inputs for external peripherals, which allow you to connect monitors, speakers, Ethernet cable, keyboard and mouse.
How to choose a motherboard
Choosing a motherboard, as we said at the beginning, is not always so simple. Its importance is fundamental for the life of the PC, and will make it last more or less time, depending on the model chosen.
The first element to consider, especially depending on which cases to buy, is the format of the motherboard. This component covers all the dimensions of existing computers, from Mini-PC to Full Tower, adapting accordingly to the available spaces.
As you can see, there are five variants of a motherboard available. In addition to dimensions, the number of doors and slots on its surface changes. If in an ATX format, you will have a maximum expansion available for peripherals, the same cannot be said for Mini, Nano and Pico-ITX.
These are designed for minimal solutions, such as Mini-PC or particularly small case. Our advice is to always choose an ATX motherboard or Micro-ATX limit if the case you own or want to buy cannot accommodate a larger one.
How to choose a motherboard socket
The socket is one of the most important components of the motherboard, that part where the processor is case. The type of socket on the motherboard you want to buy will also be decisive for the choice of processor.
The technical evolutions have meant that over time, the housings for the CPUs changed considerably, effectively preventing the use of the most-recent ones on older motherboards and vice versa.
---
AMD Socket
AMD is the company that together with Intel controls the CPU market. The motherboards designed to host these processors can have different types of sockets. The two main types currently used are AM4 and TR4.
AM4 was launched in 2016 and can host AMD processors with Zen and Excavator architecture. This means that you will find first-generation Athlon and Ryzen among the supported CPUs. TR4 is instead of the most-recent socket architecture, developed specifically for the Ryzen Threadripper family, high-performance CPUs that need a special housing.
Keep in mind that with the launch of the new Ryzen, AMD finally seems to have filled the gap that separated it from Intel. It could be a smart move to focus on this new generation of processors, among other things cheaper than the Intel counterpart.
---
Intel socket
Intel has outperformed AMD for years, producing processors with significantly better performance, albeit at a higher cost. Although the gap has narrowed, choosing an Intel CPU still means equipping your PC with an absolute quality component. Again, you will need a motherboard with a dedicated socket.
Currently, Intel produces processors that interface with three different types of sockets: 1151, 2011-v3 and 2066. If the 1151 socket is designed to accommodate slightly more outdated CPUs, that is those of the Skylake and Coffe Lake series, it is not can say for the other two. 2011-v3 and 2066 make it possible to use Intel processors with Kaby Lake and Cascade Lake architecture.
---
Which motherboard to choose
After this brief introduction, where we explained how to choose a motherboard, it's time to see the most interesting models on the market. We have decided to insert three motherboards for each currently available socket, in order to give you the possibility to choose the model that best suits your budget.
Intel socket 2066 motherboards
Asus Prime X299-DELUXE
This model is currently among the best for Intel socket 2066 processors. It boasts some of the top features on the market and is a product suitable for the most demanding users. In addition to allowing processor overclocking, it gives the possibility of mounting M.2 SSD, the fastest on the market today. There is also support for DDR4 RAM and the integration of USB 3.1 port.
ASUS ROG STRIX X299-E GAMING
Asus ROG STRIX X299 is another really performing model, designed for those who use the PC especially for gaming. Inside there are lots of new features, among which the most interesting are overclocking, cooling and customization. Also in this case the RAM memories used are of the DDR4 type, as for most of the more recent products. The Aura fully customizable RGB LED lighting system is interesting.
MSI Pro Series Intel X299 LGA 2066
Speaking of cheaper Intel 2066 socket motherboards, we can't help but bring up this MSI model. It is a solution that still maintains excellent performance and is able to give good satisfactions. DDR4 RAM memories are supported up to a maximum of 128 GB and there are 4 PCIe 3.0 slots, 2 M.2 slots and 3 USB 3.1 port.
---
Intel motherboard socket 2011-3
ASUS ROG Rampage V Edition 10
Hardened gamers or always looking for the best performance? Asus has the right product for you if you have an Intel Socket 2011-3 processor. Starting from the design, nothing is left to chance on this high-end motherboard.
Designed for those who love overclocking, it offers dedicated options, such as 5-Way Optimization with Auto-Tuning. On its surface, it is possible to insert up to 128 GB of DDR4 RAM, with a maximum frequency of 3,333 MHz. There are many other solutions designed specifically for the high end.
---
Intel motherboard socket 1151
Gigabyte GA-Z270 Gaming K3
If you think that to get a good-quality Intel motherboard, you have to spend a fortune you're wrong. Thanks to this product signed Gigabyte insert in your PC a motherboard up to the performance of high-end and with an economic price is finally possible.
The supported RAM memory is of the DDR4 type, with a maximum capacity of 64 GB, while at the peripheral level, there are also two USB 3.1 ports, a Tipe-C and a Type-A., I don't mind finding even an M.2 slot and six SATA 3.0 ports on board.
MSI H270
Among the motherboards for Intel 1151 sockets, of course, this model made by MSI, the historic brand of international gaming, is coming to the fore. It is an economic product and able to manage a good calculation power in an excellent way.
On the base of the motherboard, there are 4 slots for DDR4 type RAM, up to a maximum capacity of 64 GB. There are two PCIe 3.0 x16 slots, both capable of providing support for AMD CrossFire or Intel Optan technology. Two M.2 slots, 6 SATA 3.0 ports and two USB 3.1 ports complete the package.
ASUS PRIME B250M-K
Assembling a PC with an Intel Kaby Lake processor may be less expensive than expected, especially if you are looking for a cheap but good-performing motherboard. This is a market segment where it is not easy to find a product with this quality / price ratio.
Made in Micro-ATX format it is also suitable for homes that are not too spacious. Support for DDR4 RAM is guaranteed by 2 slots, which can accommodate up to 32 GB. For the rest, we find an Intel B250 chipset, an M.2 slot, 5 SATA 3.0 ports and a PCIe 3.0 x16 slot.
---
AMD motherboard socket AM4
ASUS PRIME X370-PRO
In the case of motherboards with AMD AM4 sockets, it is possible to find excellent products at a very competitive price. This is a prime example of this model of ASUS, which is located in the medium-high end of the market.
The RAM memory to be used is DDR4, with a maximum supported amount of 64 GB. There are also 2 PCIe 3.0 x16 slots, an M-2 slot, 8 SATA 3.0 and 2 USB 3.1 ports.
ASRock A320M-DGS Motherboard
Even the low end of AMD AM4 socket motherboards is not lacking in performance. This model  one of the cheapest on the market, thanks to its Micro-ATX format is able to enter even the smallest of homes.
Despite this, there is support for 32 GB of DDR4 RAM and there are 4 SATA 3.0 ports and 12 USB ports, half of which 3.0.
---
AMD motherboard socket TR4
ASUS ROG Zenith Extreme
The new-generation AMD TR4 motherboards cost more than previous models. At the same time, they offer truly excellent top performance. On board, the brand-new AMD Threadrippers can be fitted, the best currently available on the market by this brand.
In addition to an elaborate cooling system, you can mount up to 128 GB of DDR4 RAM on this motherboard. There are 3 M.2 slots, while thanks to the 5-Way Optimization technology it is possible to manage the most important system parameters in real time and automatically.
GIGABYTE X399 AORUS PRO
By changing brands and going down to a slightly lower price range, Gigabyte offers us a truly attractive solution. Rated for gaming, it supports up to 4 video cards and incorporates 8 DDR4 RAM slots.
The equipment is completed by a Killer E2500 network controller, 3 USB 3.1 ports, 8 SATA 3.0 ports and 3 M.2 slots. The audio sector is also very good, entrusted to the Realtek ALC 1220 codec.
ASUS PRIME X399-A
This Asus motherboard is the cheapest alternative, if one can define it, for AMD Ryzen Theadripper processors. The endowment is first order, with the presence of 4 PCIe 3.0 x16 slots, 2 M.2 slots and a U.2 slot. The RAM memory to be used is of DDR4 type, up to a maximum quantity of 128 GB. The Aura Sync RGB lighting system cannot be missing on a model of this caliber, which always creates an excellent scenic effect.
Product prices and availability are subject to change. Any price and availablility information displayed on Amazon at the time of purchase will apply to the purchase of any products.